Just when you thought summer couldn't get any sweeter, another batch of limited edition drinkware just
dropped!Our tumblers are the best way to beat the heat this season. Available in limited quantities online and
in-store.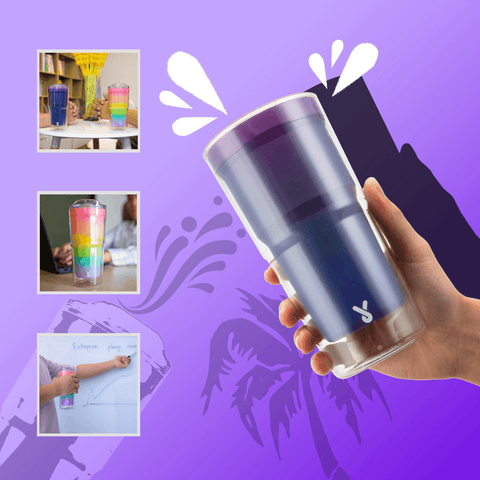 Get happy with this color-changing cold cup. Guaranteed to make you smile with every sip, this bright beauty
holds 24 ounces of any cold beverage. A straw and threaded lid are included, and this tumbler is BPA-free. It's
made to perfectly fit cup holders, too. Hand wash only. Featuring the Scooter's grin on front and back, our Color
Me Happy Tumbler is like a mood ring in a cup!
Such a fresh design! Our rainbow color changing tumbler keeps drinks hot or cold, without breaking a sweat,
thanks to its double-walled, insulated acrylic construction. Its threaded lid features a minty flip-over splash
protector and large straw for cold drinks. Hand wash this BPA-free tumbler, and no microwaving or freezing.
It makes a great just-because gift … we recommend one for them and one for you.
Double-walled insulated tumbler keeps your hot drinks warm for hours and your cold drinks cold without the
exterior sweating. The colorfully patterned rainbow tumbler features a peach flip-top splash protector on its
threaded acrylic lid, so no worries driving or taking this tumbler everywhere you go. It comes with a large straw
for cold drinks, too.This 20-ounce tumbler is BPA-free. Hand wash it, and no microwaving or freezing. It's perfect
for a Scooter's summer: fresh, colorful, and all love.